Global-MINDS is the European Master in the Psychology of Global Mobility, Inclusion and Diversity in Society funded by the Erasmus Mundus Joint Master Degree (EMJMD) funding programme (Erasmus+ – Key Action 1). It is a comprehensive 2- year study programme with 120 ECTS focusing on insights into contemporary social and societal issues from Social and Cultural Psychology.
Applications for one self-funded position in mobility path C in the 2019-2021 cohort are open until 15 July, 2019.
Leading universities from five countries jointly deliver the Global-MINDS programme in English:
ISCTE – Lisbon University Institute (ISCTE-IUL),
Lisbon, Portugal,
School of Social Sciences and Humanities
(Coordinating Institution)
SWPS University of Social Sciences and Humanities (SWPS),
Warsaw, Poland
University of Oslo (UiO),
Norway, 
Faculty of Social Sciences
Koç University (KU),
Istanbul, Turkey

University of Limerick (UL),
Limerick, Ireland
A team of leading scholars contribute to the delivery and quality assurance of Global-MINDS.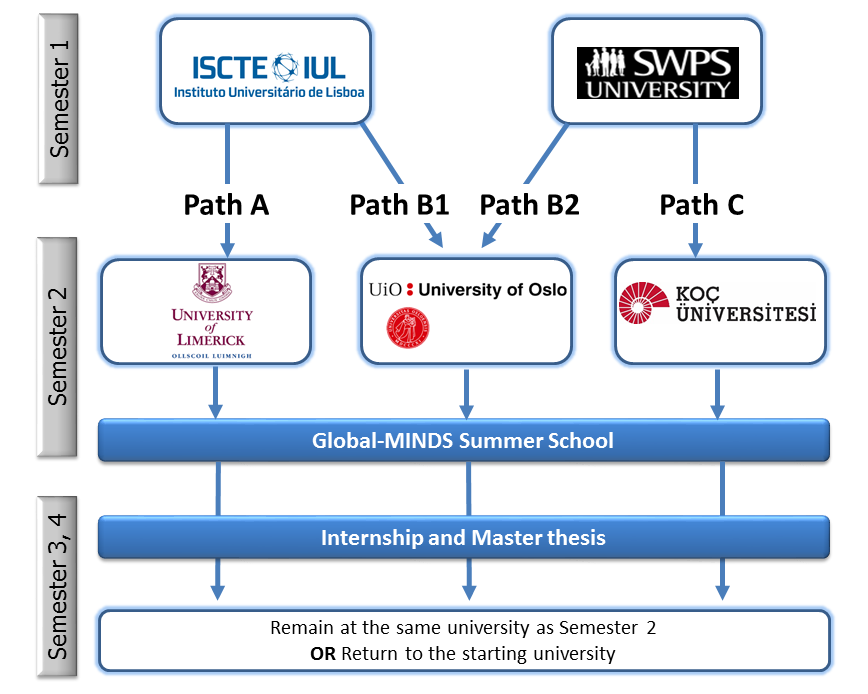 As with all EMJMD Master Programmes, Global-MINDS includes mandatory mobility between Universities.
An international network of associate partners – private companies, civil society organisations, public service providers, practitioners, policy makers, governmental organisations and NGOs – assures high quality student internships and assistance in graduates' employment.
Global-MINDS has received a grant from the European Union to implement the master.
Testimonial from Vanessa (2017-2019, first cohort):

Disclaimer: This website and all its content reflect only the authors´ views. The EACEA and the European Commission are not responsible for any use that may be made of the information contained herein.