The 2-year program consists of two semesters of full time course work in the first year, at two different universities. This is followed, in the second year, by a semester internship with an organisation or company organised in association with the partner university of the student's choice, and a final semester for completing and defending the thesis.
Global-MINDS students start either at ISCTE-IUL or SWPS. They then spend their 2nd semester at one of the other two Partner Universities. Three mobility paths, focusing on societal issues, ensure that students experience the highest level of diversity in regard to cultural, socioeconomic, academic conditions and educational contents (see mobility path diagram). Elective courses offered at each Partner Institution in Psychology and other disciplines (e.g., political science) allow students to deepen a thematic interest and/or obtain an interdisciplinary perspective. Students can stay at the same university after the second semester or return to the original university for the second year (internship & master thesis) semesters.
The Partner Universities ISCTE-IUL and SWPS are located in Southern and Eastern European regions and are therefore paired with Northern and Western European Partner Universities. Moreover, the academic content is complimentary in each mobility path.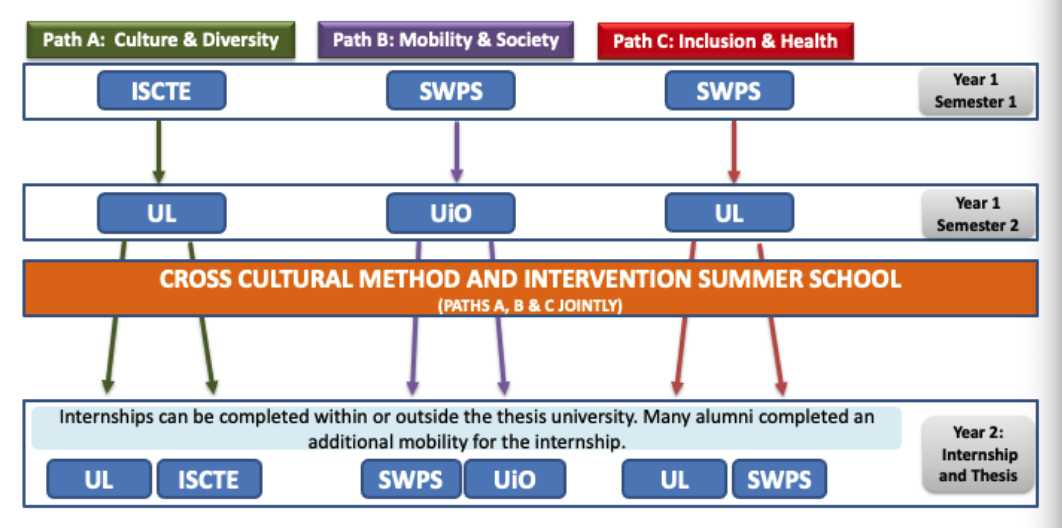 When applying for the program, students must rank order their preference for the three possible mobility paths:
Students will deepen their knowledge in Social Psychology by applying its principles regarding diversity and social inequality to contemporary social issues, such as how individuals relate to community and society, the groups they are part of and those people they see as not part of their group, including topics such as collective action and ideologies of diversity and multiculturalism.
Students will learn how to plan, conduct and evaluate applied research and interventions regarding justice and sustainability with an emphasis on migration and intergroup relations. They will also learn about how psychology can contribute to issues of human rights violations as well as post-conflict reconstruction.
Students will gain understanding of Social and Cultural psychology with a focus on how they intersect with Health Psychology in the experiences of migrants. Students in this path will gather experience in interventions and political issues that arise at the intersection of these three branches of psychology as well.
Mobility Path A, Culture & Diversity: Semester 1 at ISCTE-University Institute of Lisbon (ISCTE-IUL), Lisbon Portugal; Semester 2 at University of Limerick (UL), Limerick, Ireland.
Mobility Path B, Mobility & Society: Semester 1 at SWPS University of Social Sciences and Humanities, Warsaw, Poland; Semester 2 at University of Oslo (UiO), Oslo, Norway.
Mobility Path C, Inclusion & Health: Semester 1 at SWPS University of Social Sciences and Humanities, Warsaw, Poland; Semester 2 at University of Limerick (UL), Limerick, Ireland.
The starting universities provide the foundation regarding social and cultural psychological contents.
ISCTE-IUL: Compulsory courses focus on basics regarding group phenomena including stereotyping and intergroup discrimination. Issues of intercultural contact as well as potential misunderstandings in communication situations are also covered. Students learn specific techniques to reduce prejudice in society and to improve their cultural competence.
SWPS: Compulsory courses cover an introduction to social psychological topics (e.g., prejudice, stereotyping and discrimination) and numerous cultural psychological issues such as cultural diversity, acculturation, as well as ethnic conflict. 
After completing the first semester, Global-MINDS students will move to a Partner Institution as specified in the mobility path diagram. The mobility paths have been carefully designed in order to offer students the choice of a thematic focus according to their interests and career ambitions. Students will also receive a solid training in psychological qualitative and quantitative methods and data analysis as a preparation for their Master thesis project. 
The compulsory Global-MINDS Summer School offers additional knowledge and skills development regarding cross-cultural methods and intervention, which are not covered by the Partner Institutions.
More information regarding specific course offerings is available on the Curriculum Page.
**Note: the opening of the programme and each individual mobility path will depend on having sufficient students enrolled. Path A is also contingent on the local partner programme at ISCTE-IUL (the Master in the Psychology of Intercultural Relations) having sufficient students to open which will be decided no later than the end of June, 2021. In the case of any individual path not opening, students will be assigned to another path, taking into consideration stated preferences.**
Virtual orientation (All paths):  September 4 to 15, 2023
Semester 1 Path A: (Lisbon)
Welcome and orientation: September 22, 2023
Classes start

: September 25, 2023

Classes finish

: December 18, 2023

Examen period: January 3 to 12, 2023 
Semester 1 Path B & C: (Warsaw)
Welcome and orientation: September 21-22, 2023
Classes start: September 25, 2023.
Classes finish

: December 22, 2023.

Examen period: January 8-12, 2023
Semester 2 Path A & C: (Limerick)
Classes start: January 22, 2024.
Classes finish

: May 20, 2024.
Semester 2 Path B: (Oslo)
Classes start

: January 15, 2024.

Classes finish

: June 14, 2024.
Second year: 
Career day: TBC
Summer school:  June 17 to 28 (Limerick, Ireland)
Semester 3 Internship: Recommended dates: September to December 2024 (Location depends on internship)
Semester 3 & 4 thesis: Recommended dates: September 2024 – June 2025 (Location depends on main supervisor)
 Deadline thesis submission: June 30, 2025
Graduation Ceremony: January 2026
Studies:
Virtual orientation: August 29 to September 2, 2022
Semester 1 Path A: September 22, 2022 (Lisbon)
Semester 1 Path B & C: September 26, 2022 (Warsaw)
Semester 2 Path A & C: January 23, 2023 (Limerick)
Semester 2 Path B: January 15, 2023 (Oslo)
Career day: 2 March, 2023
Summer school: 19 to 30 June 2023 (Limerick)
Semester 3 Internship: Recommended dates: September to December 2023 (Location depends on internship)
Semester 3 & 4 thesis: Recommended dates: September 2023 – June 2024 (Location depends on main supervisor)
 Deadline thesis submission: June 30, 2024
Graduation Ceremony: January 2025
Studies:
Semester 1 Path A:

September, 2021 (Lisbon)

Path B & C: September, 2021 (Warsaw)
Semester 2 Path A & C: January, 2022 (Limerick)
Semester 2 Path B: January, 2022 (Oslo)
Summer school: 19 to 30 June 2022 (Limerick)
Semester 3 Internship: Recommended dates: September to December 2022 (Location depends on internship)
Semester 3  & 4 thesis: Recommended dates: September 2022 – June 2023 (Location depends on main supervisor)
Career day: 2 March, 2023
Deadline thesis submission: June 30, 2023
Graduation Ceremony: January 2024